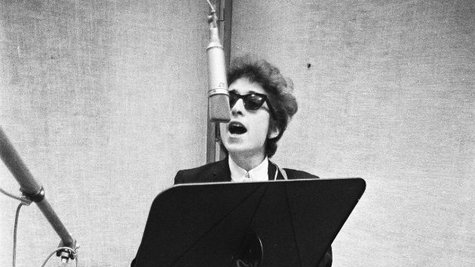 In 1965, Bob Dylan released "Like a Rolling Stone," a song that not only signaled a new chapter in the renowned folk singer's musical journey, but soon influenced the direction of rock music itself. Now, a set of Dylan's original handwritten lyrics for the tune will be up for bid at a memorabilia auction to be held on June 24 at Sotheby's in New York City.
The document, which is estimated to sell for between $1 million and $2 million, includes an almost complete set of words to the song spread over four pages. It also features commentary by Dylan about American cultural imagery, as well as several doodles by the singer/songwriter.
"Like a Rolling Stone" was Dylan's first true pop hit. It peaked at #2 on the Billboard Hot 100, kept out of the top spot by The Beatles ' "Help." Rather than being a short, sweet love song, like so many pop hits of the day, the track ran for more than six minutes and featured Dylan angrily criticizing a female character. In 2011, "Like a Rolling Stone" landed at #1 on Rolling Stone magazine's "500 Greatest Songs of All Time" list.
"This is the Holy Grail of rock lyrics," says Sotheby's executive Richard Austin , who is overseeing the auction. "The release of 'Like a Rolling Stone' irreversibly changed postwar music history. With one song, Bob Dylan elevated rock music from mere 'pop' to the medium though which youth culture expressed itself."
Another set of Dylan lyrics, a working manuscript featuring finalized lyrics for "A Hard Rain's A-Gonna Fall," is expected bring in between $400,000 and $600,000 at the sale. The Sotheby's auction, dubbed "Presley to Punk: A Rock & Roll History," also will include such interesting items as a 1965 performance and recording contract signed by Jimi Hendrix and rare posters promoting separate Rolling Stones and Elvis Presley concerts.
Copyright 2014 ABC News Radio