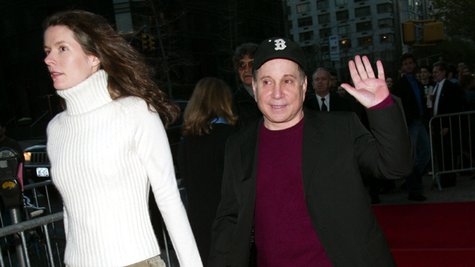 Paul Simon and Edie Brickell apparently really want us to know how much they care for one another. The couple, who earlier this week were in court following a domestic dispute that allegedly turned physical, have released a sweet acoustic duet titled "Like to Get to Know You."
The first verse and chorus goes:
"You share my heart
"You share my kids and my dog
"But I swear I don't know you at all."
"You see my face
"Every night, every day
"But I swear you don't see me at all."
"I see other couples all the time
"Romancin', laughin'
"See 'em standin' in the movie line
"Exchanging lovin' glances."
"And I wouldn't trade places
"With anyone, none of them
"'Cause I'd like to get to know you again."
Simon, 72, and Brickell, 48, were arrested for alleged disorderly conduct Saturday after police came to their New Canaan, CT residence following a 911 hang-up call and observed evidence of physical violence resulting in minor injuries. The singers each were formally charged in Norwalk, CT court Monday with one count of disorderly conduct. Both asked that no orders of protection be issued, a request that the judge granted. Simon and Brickell also made it known that they wanted the case to be dismissed.
During the proceedings, Brickell told the judge that her husband was "no threat to me at all." Simon added, "We're going to go home…We're going to watch our son play baseball." They're scheduled to return to court May 16.
The couple has been married since May 1992, and have three children together.
Copyright 2014 ABC News Radio