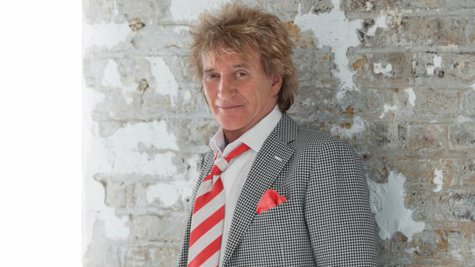 Rod Stewart 's three-year residency at the Colosseum at Caesars Palace shows no signs of stopping. The singer has just announced a batch of new shows that will see him performing at the venue through at least November 23.
Rod, who's currently performing spring dates for his show, The Hits, at the Colosseum now through May 17, has added 18 new shows, starting September 20. Tickets go on sale on Saturday. Here are the new dates:
Sept. 20, 21, 24, 26, 27, 30
Oct. 2, 4, 5
Nov. 5, 8, 9, 12, 15, 16, 19, 22, 23
In addition, the Las Vegas Sun reports that later this year, Rod will announce dates into 2015, but a spokesperson has not confirmed that. The show originally debuted at the Colosseum back in 2011.
The 69-year-old singer recently gave up playing soccer, because it's too hard on his knees, but he tells the Las Vegas Sun that he'll continue to kick his signature soccer balls into the audience every night in Vegas, because fans expect it. "The show wouldn't be the show if I stopped kicking out those footballs," Rod tells the paper. "It would be like not playing 'Maggie May,' you know."
"I've seen fights and blows, even between women, although I don't encourage that," he continues. "It is extraordinary the lengths people would go to, to get a hold of a [soccer] ball...I'll see somebody in the audience that haven't applauded all night, they just sit there with their hands in their pockets and, of course when the balls come, they're just up and jumping. I just look and I go, 'No chance mate, you're not getting one.'"
As far as performing in Vegas goes, Rod tells the paper, "Yes, I do [still] enjoy it...I think I'm a much better entertainer and communicator than I was 30 years ago."
Copyright 2014 ABC News Radio