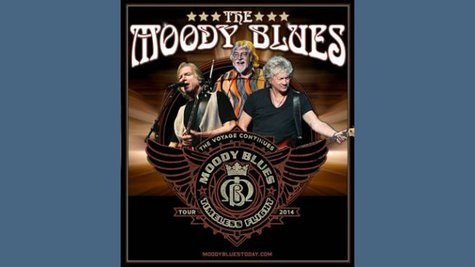 The Moody Blues have lined up a full series of late-summer tour dates in North America. The next stateside installment of the veteran British rockers' The Voyage Continues: Timeless Flight trek will get under way on August 1 in Syracuse, New York, and is mapped out through a September 4-5 stand at the Ravinia Festival in Highland Park, Illinois.
The outing includes more than two dozen shows in all, and includes stops in such major cities as Philadelphia; Toledo, Ohio; Lincoln, Nebraska; Minneapolis; and Detroit.
Meanwhile, The Moodies still have four more gigs left on their spring U.S. itinerary -- a May 7-9 engagement in Westbury, New York, and a May 10 concert in Boston. In addition, frontman Justin Hayward will be heading out on a previously announced solo tour that runs from a May 13 performance in Pittsfield, Massachusetts, through a June 13 visit to Richmond, Canada.
Here are all of The Moody Blues upcoming 2014 tour dates:
5/7 -- Westbury, NY, Theatre at Westbury
5/8 -- Westbury, NY, Theatre at Westbury
5/9 -- Westbury, NY, Theatre at Westbury
5/10 -- Boston, MA, Boston Convention and Expo Center
8/1 -- Syracuse, NY, Landmark Theater
8/2 -- Niagara Falls, NY, Seneca Events Center
8/4 -- Saratoga, NY, Saratoga Performing Arts Center
8/5 -- Bethlehem, PA, ArtsQuest
8/6 -- Uncasville, CT, Mohegan Sun Arena
8/8 -- Orillia, ON, Canada, Casino Rama
8/9 -- Orillia, ON, Canada, Casino Rama
8/11 -- Philadelphia, PA, Verizon Hall
8/12 -- Englewood, NJ, Bergen Performing Arts Center
8/14 -- Gilford, NH, Meadowbrook Music Arts Center
8/15 -- Hyannis, MA, Cape Cod Melody Tent
8/16 -- Hyannis, MA, Cape Cod Melody Tent
8/17 -- Danbury, CT, Ives Concert Park
8/20 -- Toledo, OH, Toledo Zoo Amphitheatre
8/21 -- Grand Rapids, MI, Meijer Gardens
8/22 -- Fort Wayne, IN, Embassy Theatre
8/23 -- Dells, WI, Crystal Grand Music Theatre
8/25 -- Lincoln, NE, Pinewood Bowl Theater
8/26 -- Minneapolis, MN, Northrup Arena
8/28 -- Springfield, IL, Sangamon Auditorium
8/29 -- Kettering, OH, Fraze Pavilion
8/30 -- Detroit, MI, Fox Theatre
9/2 -- LaCrosse, WI, The La Crosse Center
9/3 -- Appleton, WI, Fox Cities Performing Arts Center
9/4 -- Highland Park, IL, Ravinia
9/5 -- Highland Park, IL, Ravinia
Copyright 2014 ABC News Radio