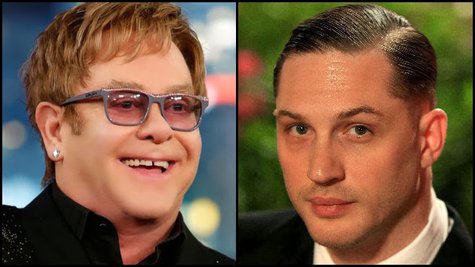 Tom Hardy , the highly regarded British actor who's been tapped to portray Elton John in the music legend's upcoming biopic, recently claimed in an interview that he can't sing a note. But don't worry: as Hardy admits to ABC News Radio, he just made that up, because he thinks it's more "interesting" if people think he has no musical ability.
Asked by the Wall Street Journal if the fact that he's starring in the movie, Rocketman , means he'll be singing Elton's biggest hits, Hardy replied, "Yeah, I hope so....But that's terrifying me. I can't hold a tune to save my life. God knows how I'm going to do that." But when asked to confirm that he really can't sing, Hardy told ABC News Radio, "It sounds more interesting to believe somebody who can't sing is playing Elton John, doesn't it? So, I try to be interesting wherever possible."
"I'm not very interesting. So, it's one of those marketing ploys," he continues. "'The guy can't sing. He's going to play Elton. He's bound to fail,' you know, that kind of thing."
OK, so Hardy can sing. But that doesn't mean portraying one of music's all-time greats is going to be a walk in the park for him, either. Hardy, who's best known for his roles in Inception and in The Dark Knight Rises -- he memorably played Bane, the villain, in that movie -- says he agreed to star in Rocketman precisely because it's going to be a challenge.
"You know, I have to say yes, because it's something that I don't think I can do, and that's exciting, and it's out of my comfort zone," he tells ABC News Radio. "Because...you know, Elton John is so specifically Elton John and I'm not him. So, I'm drawn toward that which I think I will probably fail at doing. And then there's some level of, sort of, pleasure in trying to dig myself out of the hole."

As previously reported , Rocketman , directed by Michael Gracey , will trace Elton's life from childhood to worldwide fame, and the story will be told through what has been described as "fantastical choreographed sequences" set to Elton's biggest hits.
When Hardy was first cast, a executive at Focus Features, which is teaming with Elton's movie production company on the project, told Variety, "Tom...has proven his ability to transform himself completely into the character or subject found in the material. We are confident that Tom will embody the physicality and spirit of Sir Elton."
Copyright 2014 ABC News Radio