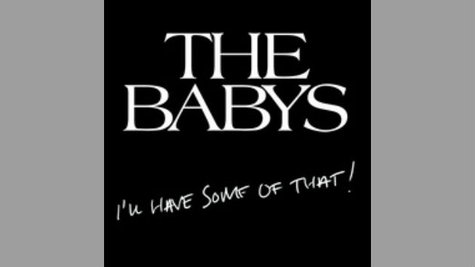 It's been more than 30 years since The Babys released a new studio album, so isn't it time that the pop-rock group put out another one? The newly re-formed version of the band thinks so, and will be issuing a brand-new record titled I'll Have Some of That on June 24.
The new incarnation of The Babys includes founding guitarist Wally Stocker and drummer Tony Brock , along with two new members -- singer/bassist John Bisaha and rhythm guitarist Joey Sykes .
"The whole premise is to keep The Babys alive and have a good time doing it," says Stocker about reemergence of the band.
In conjunction with the announcement of the album's release, The Babys have made a new single from the record, titled "I See You There," available now as a digital download via iTunes.
"In recording this new album, we discussed the fact that the songs had to have the flavor of what we were known for," explains Stocker about I'll Have Some of That .
Adds Brock, "It was just a magical process. By the time we finished, I knew we had the goods."
The Babys, which scored top 20 hits in the late 1970s with "Isn't It Time" and "Every Time I Think of You," originally was led by singer John Waite , who went to have a successful solo career and also fronted the '80s supergroup Bad English . The latter band also featured two other ex-Babys members, longtime Journey keyboardist Jonathan Cain and current Styx bassist Ricky Phillips .
The latest Babys lineup is planning to support I'll Have Some of That with a variety of as-yet-unannounced tour dates. Keep up with the latest on the band by visiting TheBabysOfficial.com .
Here is the full track list of the forthcoming album:
"Every Side of You"
"All I Wanna Do"
"Sunrise & Goodbyes"
"After Midnight"
"I See You There"
"Grass Is Greener"
"These Days"
"Uncivil War"
"You Saved My Live"
"It's a Gas"
"Stay the Night"
"I'll Have Some of That!"
"When Life Goes Right"
"Not Ready to Say Goodbye"
Copyright 2014 ABC News Radio