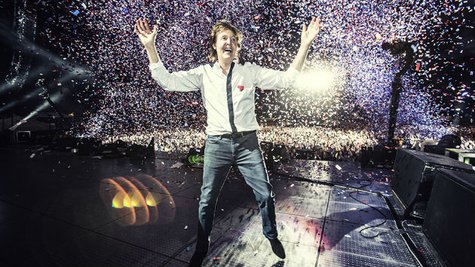 This won't come as a shock to anybody, but Paul McCartney is the richest musician in the U.K.
That's according to The Sunday Times ' latest annual Rich List , which reports that the ex- Beatles star and his wife, heiress Nancy Shevell , are worth an astonishing 710 million pounds -- that's 1.19 billion dollars.
Sir Paul and his spouse finished fourth overall on the newspaper's tally, which ranks the wealthiest people or bands involved in the U.K. music business. The next famous music artist on the list is U2 , who landed is sixth place and collectively is worth 428 million pounds, or just over 700 million bucks. The Irish band is followed by Sir Elton John at #9 with 260 million pounds, or about $436 million; Sir Mick Jagger at #11 with 215 million pounds, or about $360 million; and Jagger's Rolling Stones band mate Keith Richards at #13 with 200 million pounds, or about $335 million.
The widow of ex-Beatle George Harrison , Olivia Harrison , and their son Dhani , are ranked at #15, followed by Sting at #16, Ringo Starr at #17, Pink Floyd 's Roger Waters at #18 and Eric Clapton at #20.
Other rich musicians on the list include Sir Tom Jones , Rod Stewart , David Bowie , Ozzy and Sharon Osbourne , Phil Collins , Queen 's Brian May , George Michael , Led Zeppelin 's Jimmy Page and Robert Plant , Queen's Roger Taylor , The Rolling Stones' Charlie Watts , Pink Floyd's David Gilmour , Queen's John Deacon , Mark Knopfler , Pink Floyd's Nick Mason , The Who 's Pete Townshend and Engelbert Humperdinck .
If you're wondering who topped The Sunday Times ' Rich List, it's media mogul Len Blavatnik , whose fortune is estimated at a whopping 10 billion pounds, or $16.8 billion.
Follow @ABCNewsRadio Copyright 2014 ABC News Radio