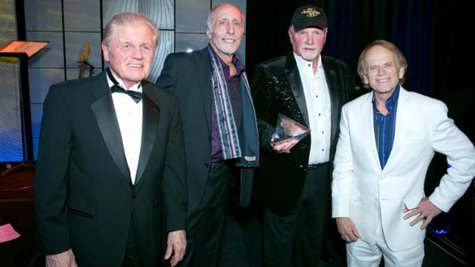 It may not be quite the reunion that many Beach Boys fans were hoping for, but nearly all of the band's surviving original members are now set to perform together at one of the legendary group's upcoming tour dates. Al Jardine and David Marks will be special guests at The Beach Boys' July 5 show at the Nikon at Jones Beach Theater in Wantagh, New York.
The current incarnation of the band, of course, is led by founding singer Mike Love and longtime member Bruce Johnston . Brian Wilson is the only living original member who apparently won't appear at the July 5 gig. Interestingly, Jardine and Marks also served as special guests during all of Wilson's co-headlining tour dates with Jeff Beck last year.
Meanwhile, in a curious development, The Beach Boys have announced that singer/guitarist Jeff Foskett , Wilson's longtime musical director, has rejoined the group as a permanent member. Foskett previously had toured with The Beach Boys throughout most of the 1980s and into the early '90s, although during the last decade he probably was best known for his contributions to Wilson's solo projects. He also took part in The Beach Boys' 50th anniversary tour in 2012 and the recording of the band's latest studio album, That's Why God Made the Radio , which was released the same year. Foskett replaces Love's son Christian , who is leaving The Beach Boys touring band to pursue a solo career.
The band's upcoming U.S. itinerary gets under way with a May 25 show in Louisville, Kentucky, and is mapped out through an October 10-11 stand in Biloxi, Mississippi. Talking about The Beach Boys' upcoming tour plans, Mike Love says in a statement, "This summer I'm particularly excited for the Jones Beach show, which is such a terrific, iconic venue. It will be very special to share the stage with some old friends and bandmates, Al Jardine and David Marks."
He adds, "Bruce and I are really happy to have Jeffrey Foskett rejoin the band -- he's a great vocalist and musician and has a long history with The Beach Boys. It's been awesome to have my son Christian performing with us for much of the past decade. I'm so proud of him and I wish him well in his work as a solo artist."
Here are all of The Beach Boys' upcoming confirmed U.S. tour dates; check TheBeachBoys.com for updates:
5/25 -- Louisville, KY, Belvedere Festival Park
6/6 -- Loveland, CO, Budweiser Events Center
6/7 -- Ft. Yates, ND, Prairie Knights Casino
6/8 -- Moorhead, MN, Bluestem Center
6/13 -- Richfield, UT, Sevier Valley Center Arena
6/14 -- Wendover, NV, Peppermill Casino
6/21 -- Laughlin, NV, Edgewater Casino
6/22 -- Arcadia, CA, LA Arboretum
7/5 -- Wantagh, NY, Nikon at Jones Beach Theater
7/10 -- Huntsville, AL, Von Braun
7/12 -- Peachtree, GA, Frederick Brown Amphitheatre
7/26 -- Ocean Grove, NJ, The Great Auditorium
7/27 -- Selbyville, DE, Freeman Stage
7/28 -- Lancaster, PA, American Music Theater
7/29 -- Columbus, OH, Ohio State Fair
7/31 -- Ventura, CA, Ventura County Fair
8/1 -- Saratoga, CA, Mountain Winery
8/2 -- Reno, NV, Silver Legacy
8/6 -- Sioux Falls, ND, Sioux Empire Fair
8/9 -- Williams Bay, WI, Ferro Pavilion
8/10 -- Detroit, MI, Freedom Hill
8/12 -- Pomona, NY, Provident Bank Park
8/13 -- Aston, PA, Sun Center
8/14 -- Stamford, CT, Columbus Park
8/15 -- Hampton Beach, NH, HB Casino Ballroom
8/16 -- Newport, RI, Yacht Club
8/17 -- Webster, MA, Indian Ranch
8/21 -- Princeton, IL, Bureau County Fair
8/26 -- Chicago, IL, Ravinia
8/27 -- Livermore, CA, Wente Winery
8/28 -- Jacksonville, OR, Britt Pavilion
8/30 -- Snoqualmie, WA, Casino Amphitheater
8/31 -- Ferndale, WA, Silver Reef Casino
9/1 -- Salem, OR, State Fair
9/7 -- Wooster, OH, Wayne County Fair
9/18 -- Paducah, KY, Carson Center
9/19 -- Belleville, IL, Town Square
9/20 -- Dubuque, IA, Diamond Jo Casino
10/3 -- Rancho Mirage, CA, Agua Caliente
10/4 -- Las Vegas, NV, Cannery
10/5 -- San Diego, CA, Humphrey's
10/8 -- San Antonio, TX, Majestic Theatre
10/9 -- Houston, TX, Arena Theater
10/10 -- Biloxi, MS, Beau Rivage
10/11 -- Biloxi, MS, Beau Rivage
Copyright 2014 ABC News Radio
Follow @ABCNewsRadio Copyright 2014 ABC News Radio