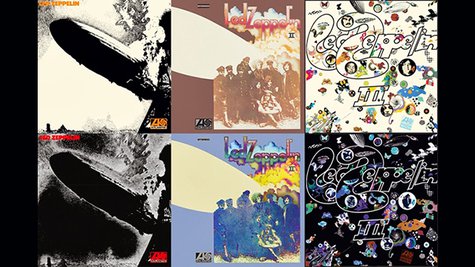 Led Zeppelin fans looking for a definitive answer as to why a reunion of the band's surviving members hasn't happened need look no further than an interview with Jimmy Page that appeared Thursday in The New York Times . In the Q&A, the guitar legend seems to place the blame squarely at the feet of frontman Robert Plant .
Asked about whether Led Zeppelin might finally play some more shows, Page refers to a comment Plant made in a 2013 interview in which the singer appeared to suggest he'd be open to performing with his old band mates this year.
Page points out, "I was told last year that Robert Plant said he is doing nothing in 2014, and what do the other two guys think? Well, he knows what the other guys think. Everyone would love to play more concerts for the band." Adds the 70-year-old rocker, "[Plant is] just playing games, and I'm fed up with it, to be honest with you."
Even though new Led Zeppelin shows currently seem unlikely, Page says he still would like to return to the stage soon.
"I definitely want to play live," he tells the Times . "Because, you know, I've still got a twinkle in my eye. I can still play. So, yeah, I'll just get myself into musical shape, just concentrating on the guitar."
As for what musicians he might play with, Jimmy offers the newspaper no specifics, but says, "I'm not devoid of ideas. So let's hope that sometime in the next year, I'm seen to be playing out there. Because that's the only thing that's been missing."
Page, of course, has been overseeing the reissue of Led Zeppelin's entire catalog. As previously reported, the first wave of the reissue campaign will begin June 3, when expanded and remastered versions of the band's first three studio albums will be released.
Follow @ABCNewsRadio
Copyright 2014 ABC News Radio