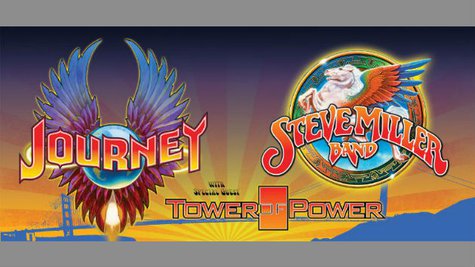 Last night, Journey and the Steve Miller Band kicked off an expansive co-headlining tour with a concert at the Sleep Train Amphitheatre in Chula Vista, California. The trek, which has unofficially been dubbed the "Sounds of San Francisco" tour, includes special guest Tower of Power and is plotted out through an August 2 show in Irvine, California.
During a recent round table teleconference Steve Miller and Journey guitarist Neal Schon and keyboardist Jonathan Cain chatted about the outing and the significance of the legendary Bay area groups hitting the road together.
Schon noted that, after teaming up with many other bands over the years, he was excited to finally get the chance to tour with Miller.
"We've been doing this for years and we've sort of, like, worn out all the options of different people to play with," he explained. "There's a few that, you know, I wished to [tour] with but hasn't happened and Steve Miller definitely was one of 'em."
Neal also pointed out that there are some historic connections between Miller, Tower of Power and Journey's members.
"Tower of Power and myself go way back, to '69 and '70, and I used to jam with those guys all the time before I joined Santana and after I joined Santana in 1970," he said. "So, it's like a full circle."
In addition, Schon noted that Journey bassist Ross Valory was a member of the Steve Miller Band before joining Journey, while he previously opened for Miller when he was playing guitar with Paul Rodgers back when the Bad Company singer was promoting his 1993 tribute album, Muddy Waters Blues .
"So, it'll be good to reunite with everyone," added Schon, "and [it will] probably turn out to be very fun in the end and [we'll] probably end up jammin' a bit with everyone."
Miller also said he was looking forward to touring with Journey and Tower of Power, even though he admitted that he sometimes feels frustrated that today's audiences only seem interested in hearing his old hits.
Looking on the positive side of the multi-act extravaganza, Miller declared, "It's like a big kind of festival, [a] very happy, big large group of people. And those shows are fun too, because there'll be 20,000 people…singing all the songs and it'll be a very joyous occasion."
Miller also noted that his band and Journey enjoyed similarly long periods of popularity and commercial success, while they both also emerged from the same thriving and groundbreaking San Francisco scene.
"The creativity was fast and the response from the audiences was instant," he maintained. "And at the same time we were doing this, we were building brand new stages, brand new sound systems, brand new light shows, and all of that really added to…what made the music mean more than just like a string of hits."
Cain, meanwhile, said he thought Journey and the Steve Miller Band were both inspired by the same types of artists and shared similar goals with regard to creating music that appealed to a large number of people.
"American music is the blues, it's pop, it's soul and it's the combination that makes it unique, you know," explained the keyboardist. "We both grew up loving soul and rhythm & blues and great melodies, you know? And I think in the end, melodies were contagious. They were in the air. The people wanted to be able to sing along with stuff. People wanted to party."
The Journey-Steve Miller Band tour will feature more than 40 North American dates. You can check out the full itinerary by visiting JourneyMusic.com and SteveMillerBand.com .
Follow @ABCNewsRadio
Copyright 2014 ABC News Radio