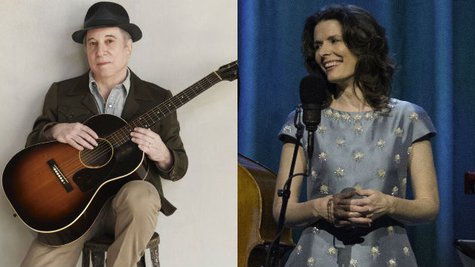 Paul Simon and wife Edie Brickell returned to a Norwalk, Connecticut, court on Friday to attend a new hearing related to the disorderly conduct charges both face stemming from an April 28 incident that took place at their home in nearby New Canaan. According to the New York Post 's Page Six , the couple held hands and walked arm in arm during the proceedings, at which they were told by the judge that they must return to Norwalk Superior Court on June 17 at 9 a.m. ET.
Page Six reports that an attorney for Simon and Brickell told the judge that the couple felt neither one was a threat to the other, and no order of protection was issued. The two singers also had asked that no media be allowed in the courtroom during their appearance, but the request was denied.
Simon, 72, and Brickell, 48, were arrested on April 28 after police came to their residence following a 911 hang-up call and observed evidence of physical violence resulting in minor injuries. According to court documents, Brickell told authorities that Simon had shoved her and that she had slapped him. Police observed a cut on Simon's ear and a bruise on Brickell's wrist, and also noted that Edie smelled of alcohol.
The couple has been married since May 1992, and has three children.
Follow @ABCNewsRadio
Copyright 2014 ABC News Radio