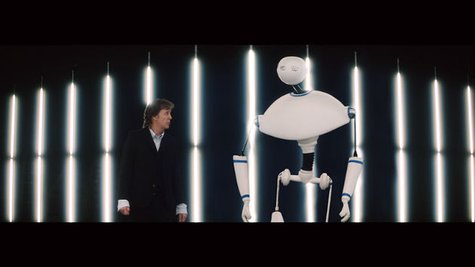 An official video for the new Paul McCartney song "Appreciate" has premiered online , featuring the rock legend appearing alongside a very unique co-star: a robot named Newman. The clip, which clearly is set in the distant future, shows the robot patrolling a museum devoted to humans that includes a display featuring McCartney holding his signature Hofner bass and surrounded by a number of other instruments.
As the robot stares at Sir Paul, the former Beatles star comes to life and begins singing "Appreciate," one of the tunes from his latest album, NEW . Newman then pulls McCartney through a force field enclosing his exhibit and the two begin to walk through the museum, passing other displays showing people frozen while taking part in various activities, including a family at a dinner table, two men boxing, a puppeteer with a marionette and a photographer snapping a pic of a model. As McCartney continues to sing his tune, the people suddenly come to life and begin to dance. As the video comes to an end, Newman jams on a guitar as Paul strums the cigar-box guitar he played in his recent collaboration with Nirvana 's surviving members.
Explaining how the idea for Newman came about, McCartney says, "I woke up one morning with an image in my head of me standing with a large robot. I thought it might be something that could be used for the cover of my album NEW but instead the idea turned out to be for my music video for 'Appreciate.' Together with the people who had done the puppetry for the worldwide hit War Horse we developed the robot who became Newman."
The video was given its world premiere recently in Japan, where McCartney kicked off a series of tour dates that began Saturday in Tokyo. Fans who attend the shows can expect to see Newman making a special guest appearance.
The "Appreciation" clip was filmed in London and directed by Andre Chocron .
Follow @ABCNewsRadio Copyright 2014 ABC News Radio