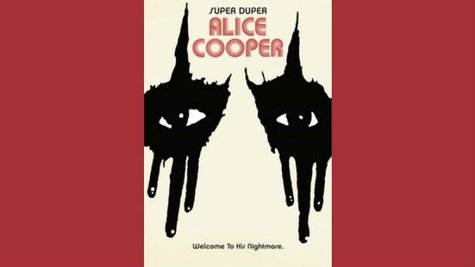 Get ready to welcome the nightmare into your living room. The recent Alice Cooper documentary Super Duper Alice Cooper , is coming to home video next month.
The documentary -- which mixes archival footage and animation with interviews with Cooper, his band members and peers like Elton John and Iggy Pop -- will be released on both DVD and Blu-ray disc, combined with deleted scenes and interviews with Cooper from the VH1 Classic program Metal Evolution .
In addition, a limited-edition boxed set will be available that will include both the DVD and Blu-ray version of the movie, a second DVD of previously unreleased footage from a Cooper concert at Montreal University in 1972 and a CD capturing a Cooper performance at the 2009 Montreux Jazz Festival. The deluxe edition comes in an LP-sized box with a 60-page hardback book of photos.
The various editions of Super Duper Alice Cooper will be released June 3. The standard DVD will cost you $14.98, the Blu-ray is priced at $19.98 and the deluxe box will set you back $69.98.
Here are the track listings for the bonus DVD and CD included in the deluxe edition:

DVD -- Montreal 1972:
"Be My Lover"
"You Drive Me Nervous"
"I'm Eighteen"
"Is It My Body"
"Dead Babies"
"Killer"
"Long Way to Go"
"School's Out"
"Under My Wheels"

CD -- Montreux 2009:
"It's Hot Tonight"
"No More Mr. Nice Guy"
"I'm Eighteen"
"Feed My Frankenstein"
Acoustic Solo
"(In Touch With) Your Feminine Side"
"Dirty Diamonds"
"Vengeance Is Mine"
"Halo Files"
"Welcome to My Nightmare"
"Only Women Bleed"
"Steven"
"Dead Babies"
"Ballad of Dwight Fry"
"Devil's Food"/"Killer"/"I Love the Dead"
"School's Out"
"Billion Dollar Babies"
Follow @ABCNewsRadio
Copyright 2014 ABC News Radio