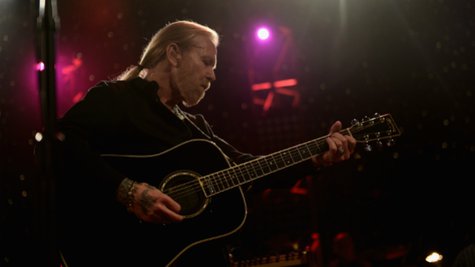 Gregg Allman and the producers and director of the Allman biopic, Midnight Rider , have been sued by the family of Sarah Jones , the camera assistant who died on the set of the film in February when she was struck by a train.
The lawsuit, which seeks unspecified damages, claims the defendants negligently caused the 27-year-old woman's death, according to the Los Angeles Times .
The lawsuit argues that producers did not have permission to film on the railway and did not take the proper safety precautions.
It states, "By committing these acts, or failures to act, the Midnight Rider defendants operated without minimum safety precautions and contrary to standard industry practices for productions of this scale and for productions involving dangerous filming conditions."
Several defendants are targeted in the complaint, including Allman, producer/director Randall Miller , Unclaimed Freight Productions and CSX Transportation, which owns the railroad tracks where the accident occurred.
Production on Midnight Rider was suspended indefinitely following the accident in southeast Georgia, which also caused injury to several crew members.
Allman later sent a letter to Miller, asking him to not resume production on the film in light of the incident. He then filed suit against the project's producers, claiming, among other things, that he wasn't paid the full purchase price for his life story. That lawsuit was dropped last week after an agreement was reached, though the terms have not been released.
Authorities have yet to decide whether to file criminal charges in connection with the accident.
One of the stars of Midnight Rider , William Hurt , has dropped out of the film.
Follow @ABCNewsRadio
Copyright 2014 ABC News Radio