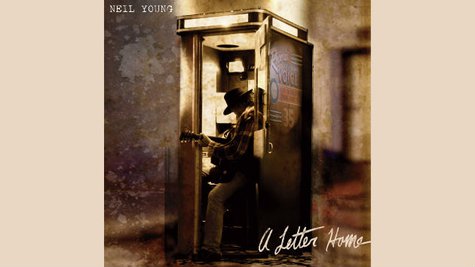 Neil Young 's latest album, A Letter Home , won't be released on CD and digitally until this Tuesday, but fans can get a full preview of the acoustic collection online now. Amazon is streaming the 11-song recording in its entirety through this Monday, May 26.
A Letter Home features Young's interpretations of tunes by various singer-songwriters who have inspired and influenced him, including Bob Dylan , Bruce Springsteen , Willie Nelson , Gordon Lightfoot , Tim Hardin , Phil Ochs and Bert Jansch . The album was recorded on a 1947 Voice-o-Graph recording booth that's located at ex- White Stripes frontman Jack White 's Third Man Records store in Nashville. The booth allows songs to be recorded immediately onto a disc. Young and White co-produced the album, which begins with a message Neil recorded in the booth in which he addresses his late mother.
Besides the single-CD and digital editions, A Letter Home will be released as a limited-edition box set that includes the CD and a 180-gram vinyl version of the album; an audiophile 180-gram vinyl disc; seven six-inch singles pressed on clear vinyl; a DVD containing footage of Young recording the album; a 32-page booklet; and a download card offering access to a high-resolution digital version of the record.
Follow @ABCNewsRadio
Copyright 2014 ABC News Radio