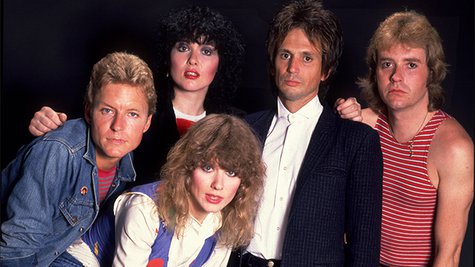 Bassist Mark Andes and drummer Dennis Carmassi , who played in Heart from 1982 until 1993, are suing the Rock and Roll Hall of Fame because their likenesses were used in promoting the 2013 induction ceremony even though the two musicians were not inducted along with the band.
Billboard reports that the recently filed suit charges the Rock Hall with "invasion of privacy," "injurious falsehood," "libel" and "slander" over its "wilful and unauthorized use of Plaintiffs' images and likenesses."
Andes and Carmassi were featured on many of Heart's biggest and best-selling songs, including the top 10 hits "What About Love," "Never," "These Dreams," "Nothin' at All," "Alone," and "All I Wanna Do Is Make Love to You." However, the Hall of Fame chose only to induct the members of the band's classic 1970s lineup. After Andes and Carmassi were informed they would not be getting inducted, the Rock Hall proceeded to use Heart images and songs that featured the pair in promoting the 2013 ceremony.
The lawsuit claims that Andes and Carmassi felt "humiliated" that they had to explain to people who had congratulated them about the honor "that they were inexplicably not chosen for induction." On the positive side, the suit notes that Heart's Ann and Nancy Wilson both lobbied, albeit unsuccessfully, to have their two former band mates included in the induction, stressing that Andes and Carmassi "were in the band when it garnered several Grammy nominations and their biggest commercial success."
Andes and Carmassi are seeking various compensatory and punitive damages.
The issue of what members should be recognized when a band is welcomed into the Rock and Roll Hall of Fame received plenty of media attention recently, when KISS ' Paul Stanley and Gene Simmons decided that the group wouldn't perform at this year's event because Rock Hall officials chose to induct only the group's original lineup.
Follow @ABCNewsRadio
Copyright 2014 ABC News Radio