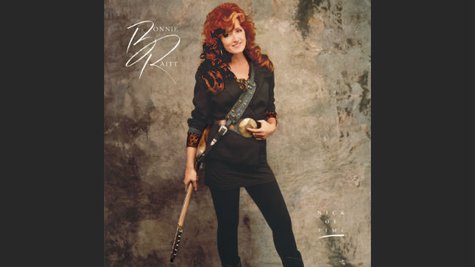 Bonnie Raitt is going back in time, technologically speaking, to mark the 25th anniversary of her breakthrough album, Nick of Time .
The 1989 album, which reached #1 on the Billboard chart and went on to sell 5 million copies, is being re-released in vinyl-only edition to mark the milestone. It's unusual for a re-release to come out only on vinyl: There's usually a digital or CD copy available as well. The Nick of Time -- 25th Anniversary album has been remastered from the original analog tapes and will be released on June 24.
Though it was the Rock and Roll Hall of Famer's 10th album, Nick of Time was the one that really made Raitt a star. It contained the hits "Thing Called Love," "Have a Heart" and the title track, and won three Grammys, including Album of the Year.
"Personally, I think it may be the best record of my career," Bonnie says in a statement. "Every record has its charm and its significance, but I think we finally got it right -- I could finally say, 'Yeah, that's what I had in mind.' As a mixture of styles, reflected in one record, it was a really good version of what I do."
"It's a particularly great batch of songs," Raitt adds. "And the synchronicity of finding these songs when I did -- the emotional connection and the gratitude that I had to be given another shot -- I think that shows. It was kismet to have it come out this well. The success of [the album] brought me a level of freedom, and the opportunities to do everything I had wanted to do."
Follow @ABCNewsRadio
Copyright 2014 ABC News Radio