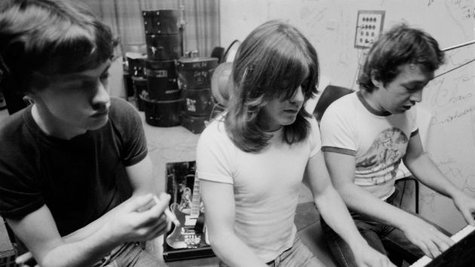 A rare album that AC/DC 's Malcolm and Angus Young worked on shortly before they began their long road to the top with their famous band will be released early next month. The album, titled Tales of Old Grand-Daddy , was recorded in 1973 by The Marcus Hook Roll Band , a short-lived group that featured Malcolm and Angus, as well as their older brother George Young and his longtime musical collaborator Harry Vanda .
Tales of Old Grand-Daddy will hit stores on June 3 , and will be available as a CD, a vinyl LP and a digital download. The album's title apparently was inspired by the fact that producer Wally Waller supplied most of the band's members with an ample amount of Old Grand-Dad bourbon during the sessions.
"We all got rotten, except for Angus, who was too young, and we spent a month in there boozing it up every night," recalls George Young. "That was the first thing Malcolm and Angus did before AC/DC. We didn't take it very seriously so we thought we'd include them to give them an idea of what recording was all about."
George Young and Harry Vanda went on to produce all of AC/DC's albums through 1978's Powerage , as well as 1988's Blow Up Your Video . The two musicians also were members of the Australian 1960s rock group The Easybeats and the late '70s new wave act Flash in the Pan .
A few songs from Tales of Old Grand-Daddy recently have gotten exclusive premieres as various websites: "Louisiana Lady" can be heard at RollingStone.com ; "One of These Days" is streaming at MSN.com ; and "Ride Baby Ride" debuted at Billboard.com .
The CD and digital versions of Tales of Old Grand-Daddy feature five extra songs -- including singles and unreleased tracks -- that don't appear on the LP. Here is the track list of the album:
"Can't Stand the Heat"
"Goodbye Jane"
"Quick Reaction"
"Silver Shoes & Strawberry Wine"
"Watch Her Do It Now"
"People and the Power"
"Red Revolution"
"Shot in the Head"
"Ape Man"
*"Cry for Me"
*"One of These Days" (Previously Unreleased)
*"Natural Man" (1972 A-Side)
*"Moonshine Blues" (1974 B-Side of "Can't Stand the Heat")
*"Louisiana Lady" (1973 A-Side)
*"Ride Baby Ride" (Previously Unreleased)
* = not on the vinyl version.
Follow @ABCNewsRadio Copyright 2014 ABC News Radio