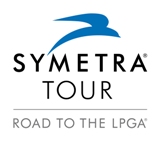 Sioux Falls, SD (KELO-AM) Sioux Falls will be part of the the LPGA Symetra Tour, starting in 2015.
The big announcement was made at a packed news conference at Willow Run Golf Course on Wednesday. The Sioux Falls GreatLIFE Challenge will be the first Symetra Tour event in the state of South Dakota in the 35-year history of the Tour. Symetra is the proving ground for lady pros for the LPGA Tour.
President of GreatLIFE, Tom Walsh says the Challenge, September 3-6, will be a six-day event, with both pro-am and pro tournaments.
The Chief Business Officer of the Symetra Tour, Mike Nichols, says the announced purse of $150,000 will put the GreatLIFE Challenge in the top five of events on the tour, so he expects success right from the beginning. Nichols says Sioux Falls is in big company, joining Phoenix, Los Angeles, Orlando and other major cities on the Tour.