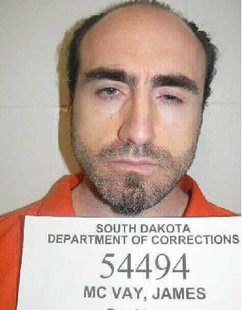 Sioux Falls, S.D.(KELO AM) - State prison inmate James McVay has died as the result of a suicide.
McVay, age 44, was found hanging in his cell in the Jameson Annex to the South Dakota State Penitentiary overnight. Penitentiary staff attempted cardiopulmonary resuscitation (CPR) and an ambulance was summoned.
McVay was pronounced dead before he could be transported to a local hospital. McVay was convicted of first-degree murder in Minnehaha County and sentenced to death earlier this year. McVay pled guilty but mentally ill to the July 2011 murder of Maybelle Schein of Sioux Falls.
Minnehaha County State's Attorney Aaaron McGowan says McVay's suicide didn't shock him because he had tried it before. McGowan says McVay made it very clear that he had little respect for human life, including his own.
An autopsy will be conducted. The Division of Criminal Investigation is investigating the death. The Department of Corrections will conduct a full review of circumstances surrounding his death.