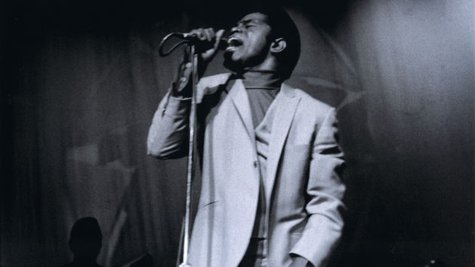 On the heels of the recently released James Brown biopic Get On Up , a full-length documentary focusing on the Godfather of Soul titled Mr. Dynamite: The Rise of James Brown will premiere on HBO on October 27 at 9 p.m. ET/PT. The film was produced and includes an appearance by Mick Jagger , who also was one of the executive producers of Get On Up .
Directed by veteran documentary filmmaker Alex Gibney , Mr. Dynamite follows Brown's career from his early success as an R&B singer through his emergence as a pioneering funk artist and civil-rights activist. The movie was made with the cooperation of the late entertainer's estate, and includes rare and previously unseen film footage and photos of "the hardest working man in show business."
"We had full access to amazing never-before-seen photos and video from James Brown's estate, which Alex Gibney used brilliantly to tell the story of James' career from its inception through its pinnacle," says Jagger in a statement. "We spoke with the extraordinary people who knew James well and worked alongside him throughout his career. By hearing their fascinating stories and memories, we were able to paint the full picture of James as both a musical artist and social activist, whose legacy and impact on the music industry is ever-present."
Gibney, meanwhile, reveals that Jagger "reached out to" him to ask him if he'd direct the movie, while noting that they shared the same goal for the project, "to take the music of James Brown and put it into a larger historical context."
Mr. Dynamite features archival interviews with Brown, as well as new conversations with Jagger, Rev. Al Sharpton , Public Enemy 's Chuck D , Questlove of The Roots and such Brown collaborators as Maceo Parker , Clyde Stubblefield , Alfred "Pee Wee" Ellis , Bootsy Collins and Fred Wesley .
Follow @ABCNewsRadio Copyright 2014 ABC News Radio