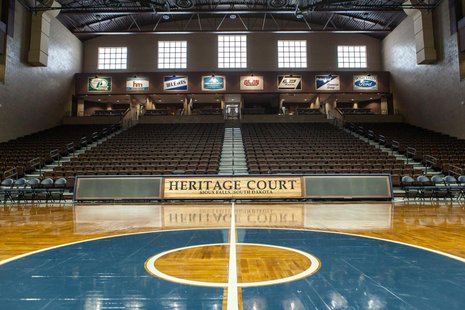 SIOUX FALLS, SD (KWSN) – Two regional television networks, Fox Sports North and Midco Sports Network, will broadcast NCAA Division I men's basketball games from the Sanford Pentagon this season.
Fox Sports North will telecast the Nov. 30 meeting between South Dakota State University and Florida Gulf Coast University, while Midco Sports Network will cover the University of South Dakota and UNLV game on Dec. 13. A total of three Division I men's basketball game are scheduled for the Pentagon in 2014-15, including a contest featuring Wichita State University and Memphis University on Nov. 18 that will be broadcast by ESPN as part of its College Hoops Tip-Off Marathon.
Tickets for all three games are available at ticketmaster.com and the Pentagon box office. Fox Sports North is available on five different cable or dish providers, and Midco Sports Network can be found on channels 26 (standard definition) or 622 (high definition) for Midcontinent Communications subscribers.
Courtesy: Sanford Pentagon