« Shows & Personalities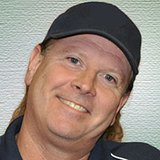 Mark Cartwright
On Air:

Daily, 6am - 9am
Mark Cartwright has been an entertainer for most of his life. His first true stage memory is doing impromptu stand-up comedy for a church banquet at the age of six. To the relief of his parents, he did not swear during the performance. After taking some time off from entertaining to learn to spell, color, count, make construction paper art, and get a high school diploma, Mark begrudgingly attended some more school, where he got a couple of more diplomas, and learned a lot of things that are barely applicable to his current career in radio. Upon leaving school, Mark decided to jump back into the entertainment industry, becoming a professional rock and roll singer and musician.

After many years, countless shows, hundreds of thousands of miles, and two haircuts, Mark once again decided to change instruments, and careers. The keyboards had become too heavy and tedious to set up. Though a solo career as a tuba player certainly must have beckoned, he instead grabbed an acoustic guitar, teamed up with his longtime friend and band mate, Jeff, and started a musical comedy duo called The Cartwright Brothers, who continue to play even after a quarter century of performing.

Sometime during this period, Mark's wife talked him into employment in the radio world, and soon after that, Mark found himself on the Q95.7 morning show, where you'll currently find him from 6 a.m to 9 a.m. every weekday morning! As mentioned previously, Mark is married, with three grand children, and one amazingly fertile stepdaughter. He spends his weekly spare minute wondering what happened to his misspent youth.